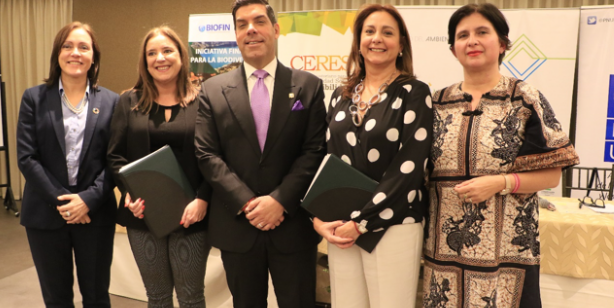 Ecuador has launched a new Social Responsibility and Sustainability Fund focused on environmental and climate issues. The private trust fund will receive voluntary contributions from the private sector, supporting sustainable business towards the national objectives of sustainable development, climate change and biodiversity conservation.
With technical advice from BIOFIN and UNDP, the Ecuadorian Consortium for Social Responsibility (CERES) and the Sustainable Environmental Investment Fund (FIAS), signed an agreement to establish the Social Responsibility and Sustainability Fund (FRSS) in late November at an event in Quito.
The Vice Presidency of the Republic and the Ministry of Environment were present to witness the signing.
This fund aims the alignment of the objectives and interests between the public and private sectors, as well as the mobilization and convergence of resources against the reduction of financial gaps in the implementation of national biodiversity policies and strategies and the fight against climate change.
During the event, Matilde Mordt, Ecuador UNDP Representative said we still face major challenges such as the eradication of poverty, the effects of climate change, energy efficiency, gender equality, sustainable growth are great.
"But there are also great investment and development opportunities for many companies and to increase employment and welfare. To address these issues is necessary to draw paths that allow us to converge interests and leverage resources to close financial gaps," she said.
The Ecuadorian Consortium for Social Responsibility - CERES has been promoting social responsibility and sustainability through its 75 members. Evangelina Gómez, its executive director highlighted the technical assistance of BIOFIN.
"Adding the efforts and resources of the private sector in pursuit of a greater social and environmental impact in the benefit of the country is a reality that will soon give promising results," she said.
Ana Albán, executive director of the Sustainable Environmental Investment Fund, FIAS, reaffirmed the commitment to support and work closely in these types of initiatives and the institutions involved.
"During last year, FIAS has positioned itself as a solid and transparent mechanism in the management of resources destined to strengthen the country's environmental policy and that this new initiative will be complemented with others that are already in execution in favor of protected areas, forests, oceans and wildlife," she said.
Raúl Ledesma Huerta, Minister of the Environment, said that, for the Government, the channeling of financing from public and private sectors is "essential" to face the challenges of climate change, loss of biodiversity, conservation and proper management of Environmental goods and services.
Finally, María Sara Jijón, Undersecretary of Governance of the Vice Presidency, pointed out that actions such as the creation of the Fund are inserted into the National Agreement on Sustainable Development and Climate Change that aims to "gather contributions from different sectors to promote ecofriendly production, that aligns with Ecuador´s climate commitment, National Development Plan and the 2030 Agenda."