Costa Rica is located in a privileged territory between the Nearctic and Neotropical bioregions and holds diverse microclimates and ecosystems that shelter between 5-6% of world known species that are part of the natural capital of the country. Costa Rica's nature-based tourism model has proven itself as one of the most important ecotourism destinations of the world, which represented 8.2% of GDP for 2016 for direct and indirect economic activities (CBCR and ICT, 2018).
 
This small Country in Central America is model for its restoration of forest cover, winning Earth Champion prizes that ecognize its National Conservation Area System that covers 26% of the country's terrestrial area and 2.6% marine ecosystems as well as its Payment for Ecosystem Services Program.  Furthermore, its Decarbonization plan for 2050 was one of the first and this recognized leadership in climate action is also consistent with its co-leadership of the High Ambition Coalition for 30x30 goals to protect nature.

BIOFIN Costa Rica has supported the understanding of both the value of natural assets and investment in nature itself. The report prepared by BIOFIN estimates that the total annual value of Costa Rica's natural capital is $ 14.5 billion, according to the information available for the evaluated ecosystems, which represent 23% of the country's GDP for the year 2019.

This shows the significant contribution of nature to the local economy and human well-being, and the significant impact that the potential loss and degradation of ecosystems represents to the Country's wellbeing.

BIOFIN has updated biodiversity expenditure review for 2015-20 and relevant findings indicate that Central Government represented 0.18% of GDP, while in deconcentrated and decentralized entities, the annual average corresponds to 0.63% of GDP. This considers the public investments made from different sectors that favor the conservation and sustainable use of biodiversity.  A first estimation of the biodiversity financial gap presented an optimistic scenario at 0.07% of GDP, 0.2% in a modest scenario and 1.2% in a critical scenario that unfortunately might be closer to a post pandemic estimation, and perhaps even closer or when adjusting to higher ambition goals, for example to increase 30% of marine ecosystem conservation.

Starting in 2018, in its second stage, BIOFIN Costa Rica implements a portfolio of 6 Financial Solutions (FS) to meet and reduce the financial gap for nature, with a clear consideration to include women, indigenous territories and rural communities as frontline champions that catalyze a new economy with nature considerations at its core.
In Costa Rica, BIOFIN has already mobilized and contributed to catalyze USD$ 84.9 million, under 6 financial solutions and a novel +Women+Nature Program, including:
A new generation of Payment for Ecosystem Services.
A  Thematic Bond for Protected Areas.
A Concessions Platform for increased revenue for the PA system and business opportunities for communities.
Crowdfunding initiative campaign #HuellaDelFuturo to restore nature and promote green wages especially for rural women in Northern Costa Rica.
Seed capital and entrepreneurship for sustainable tourism in biological corridors and indigenous territories.
A bio business financial platform that develops pipeline and financial mechanisms to promote nature positive investments.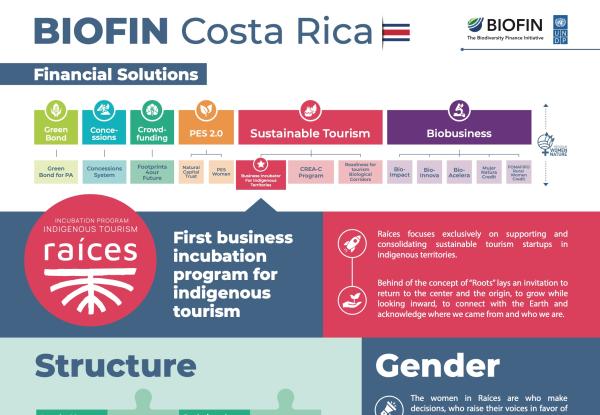 19 May 2023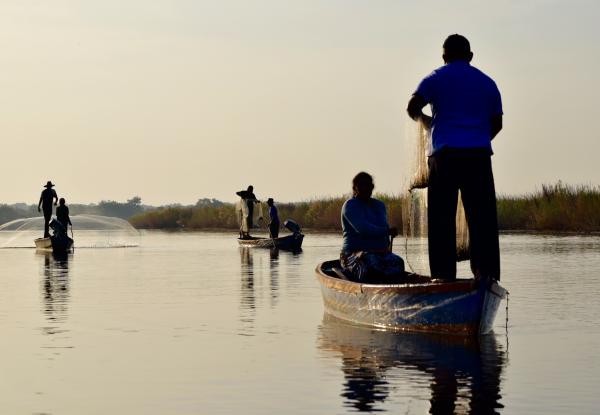 9 December 2022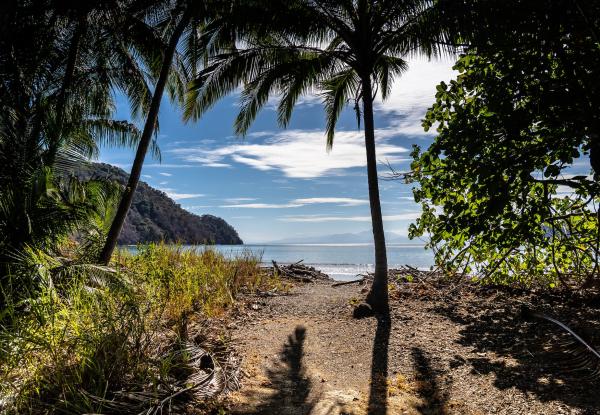 8 December 2022
1.     Thematic Bond for Protected Areas
The main purpose of this financial solution is to develop conditions to establish and issue a green or sustainable bond from the securitization of future income from the National Protected Areas System (SINAC) in order to invest in infrastructure development in Protected Areas. Infrastructure development will improve SINAC's quality and diversification of tourist services, which in turn will allow a greater possibility of contracting concessions of non-essential services and improve income and financial sustainability for SINAC.  

2.     Concessions Platform for Protected Areas
This financial solution aims at the establishment of a system of concessions of Non-Essential Services in Protected Areas and in tourist landscapes (biological corridors, PA buffer areas) as a mechanism to increase revenues for protected areas, including SINAC and for local communities to achieve more inclusive and equitable development. The concessions represent public-private partnerships (PPPs) that can increase employment, reduce wildlife poaching, and prevent the depletion of cultural and natural capital.

3.     Crowdfunding Huella del Futuro
The Huella del Futuro initiative seeks to bring together partners from various fields with a view to rebuild a greener, more supportive, inclusive, and sustainable future in Costa Rica. Under this initiative Costa Rica team launched the  crowdfunding mechanism and campaign "FootPrints4ourFuture- Huella Del Futuro" Targeting private and public companies, financial institutions, bilateral cooperation, and individual donors to provide economic relief while contributing to ecosystem restoration, creating jobs, especially for women, for  planting and providing maintenance for  200,000 trees for at least 5 years.

4.     New generation of Payment for Ecosystem Services Program (PSA 2.0)

The main objective of this financial solution is to internalize the value of ecosystem services through the economic return to those who maintain the ecosystem through sustainable activities and to identify the source (s) of funds that would gradually replace the income of the tax on fossil fuels that is intended to be reduced in Costa Rica's carbon neutrality goal by 2030.  A model of a nextgen PES conceptualized as the first Natural Capital Trust, intends to extend and replicate successful PES model to other ecosystem services beyond public forests to marine, wetlands, and other services such as pollination.  A compensation scheme is also addressed within the model. UNDP CO also achieved a high mobilization of resources for REDD+ through a Payment for Results modality of the GCF.

5.     Seed Capital and Entrepreneurship for Sustainable Tourism
Development of financial mechanisms to increase employment, promote resilience through COVID19 pandemic, reduce poaching of wildlife, prevent the loss of cultural and natural capital and achieve more inclusive and equitable development for communities, especially for women and indigenous people through sustainable tourism in rural communities.  A paradigm shift is supported through financial mechanisms that seek to strengthen rural communities and indigenous groups from grantpeneurs to entrepreneurs in alliance with the Sustainable Bank System in Costa Rica.

6.     Biobusiness Platform 
The Bio-business Development of a business portfolio with emphasis on bioeconomy for the mobilization of impact investment funds and financing through preferential green credits, with the aim of promoting companies that make sustainable use of biodiversity or whose business model seeks to mitigate, reduce or eliminate the negative impacts of human activities on ecosystems.