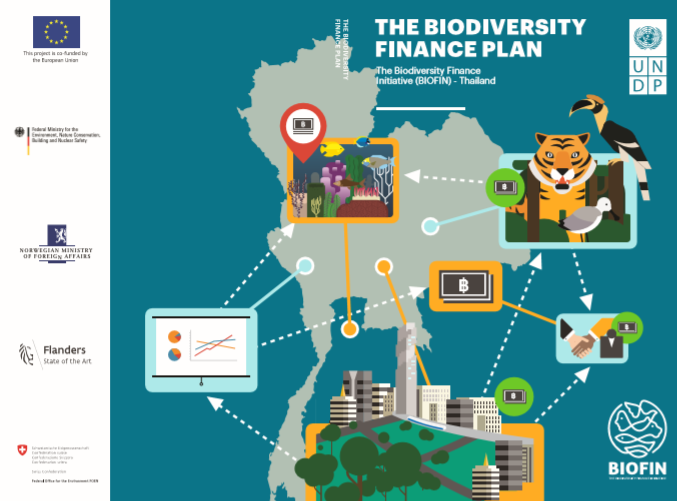 Link to download: https://www.th.undp.org/content/thailand/en/home/library/environment_energy/the-biodiversity-finance-plan.html 
The Biodiversity Finance Plan (The Plan) outlines a set of actions which would help to significantly improve the management and financing of biodiversity conservation in Thailand. The Plan calls for an integrated national approach which builds on the economic and business imperative for scaling up action on biodiversity protection in order to meet national biodiversity goals. Without a concerted effort involving both the public and private sector as well as civil society in the implementation of prioritized biodiversity finance solutions, Thailand will not be able to continue to enjoy the benefits of the ecosystem services generated by its national biodiversity. The Plan is prepared in line with the Biodiversity Policy and Institutional Review (PIR), the Biodiversity Expenditure Review (BER), and the Financial Needs Assessment (FNA) in response to the National Biodiversity Strategy and Action Plan (NBSAP).
Implementing the Plan
The Plan aims to deliver a prioritized set of biodiversity finance solutions which explore new finance mechanisms and ways of creating and supporting new partnerships. These finance solutions aim to capture the breadth of options available, for meeting the four results of biodiversity finance as outlined by The Biodiversity Finance Initiative – BIOFIN: 1) Avoid future expenditures, 2) Deliver better, 3) Generate revenues, and 4) Realign expenditures. The prioritized biodiversity finance solutions in the Plan are complementary and promote a combination of systemic and local sustainable financing, policy changes, and other incentive mechanisms within four thematic areas of intervention. The finance solutions can be summarized as follows:
1. Sustainable Tourism Finance Solution: Increasing industry revenue sources for safeguarding biodiversity and environmental management.
2. Wildlife and Protected Areas Finance Solution: Introduction of conservation vehicle license plates to support wildlife conservation in Thailand  
3. Government Budget Finance Solution: Enhancing effectiveness and biodiversity impact of local budgets in Thailand
4. Private Sector Finance Solution: Mobilizing the private sector and impact investment in support of biodiversity