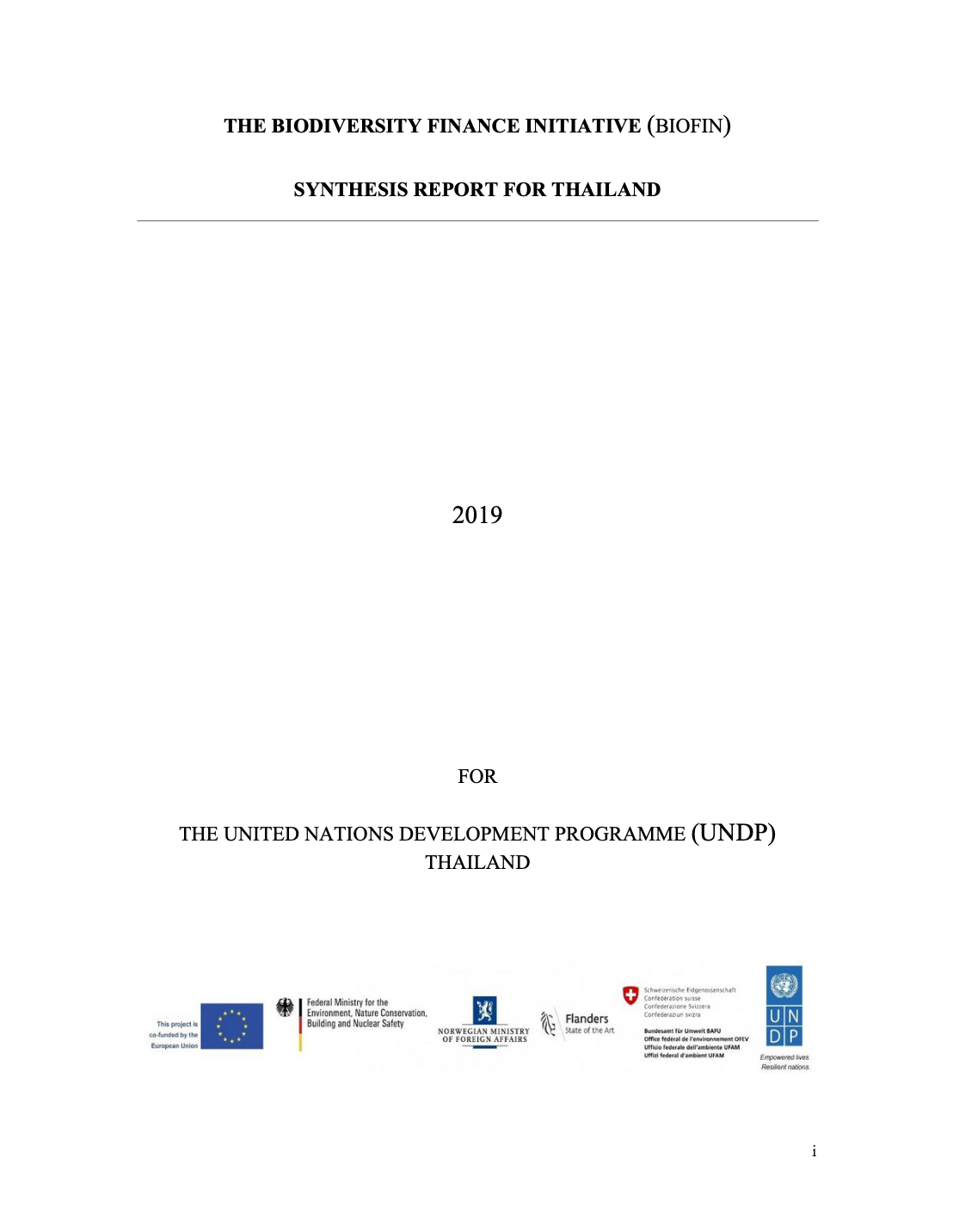 This report compiles the findings from three assessments conducted as part of the national Biodiversity Finance Initiative (BIOFIN) process. The three assessments discussed include the policy and institutional review (PIR), the budget and expenditure review (BER), and the financial needs assessment (FNA). The PIR analyzes the policy and institutional context, identifies the biodiversity targets to be achieved, and lays out the context for the intended change in financing. The BER analyzes public and private expenditures for biodiversity and establishes past and projected expenditures on biodiversity. The FNA provides an estimation of the financing required to achieve identified biodiversity targets.
The FNA also assesses the financing gap between the status quo of projected expenses and the estimated budget to meet biodiversity goals. Findings from these three assessments feed into the formulation of the country's Biodiversity Finance Plan (BFP) and are used to develop prioritized finance solutions that are then taken into the implementation phase of the BIOFIN process.
BIOFIN Thailand assesses the policy and institutional context by classifying biodiversity resources into four ecological functions. The latter are terrestrial, marine and coastal, wetlands, and urban ecosystems. The PIR finds that the key document that sets national goals for biodiversity is the National Biodiversity Strategy and Action Plan (NBSAP). In addition to this, key policy documents include the Ministry of Natural Resources and Environment (MONRE)'s 20-Year Strategic Plan (2017 – 2036), and the strategic and action plans of important line agencies.
These policy documents are set within the context of national development policies, which are the 20-Year National Strategy (2018 – 2037) and the five-year National Economic and Social Development Plan (NESDP). For biodiversity, key implementing agencies are all within MONRE. Three agencies are especially important. They are the Royal Forest Department (RFD), the Department of National Parks, Wildlife, and Plant Conservation (DNP), and the Department of Marine and Coastal Resources (DMCR). Of these three, RFD and DNP are responsible for the terrestrial ecosystem while the DMCR's mandate is with regards to marine and coastal ecosystems. There are no designated agencies that are directly responsible for wetlands and urban ecosystems. Biodiversity in these two ecosystems are overseen by a wide range of agencies. Nonetheless, given the number of projects and activities related to wetlands in the NBSAP, it can be said that the wetlands ecosystem is given much importance. While the majority of institutions working on biodiversity in Thailand are government agencies, non-profit organizations and some from the private sector have also contributed to biodiversity efforts.