In close collaboration with the Secretariat of the Convention on Biological Diversity (CBD), the CBD-BIOFIN Regional Nodes Platform enables countries to access the knowledge and tools generated through national BIOFIN implementation. More than 40 countries have benefitted from experience sharing and becoming familiar with the BIOFIN methodology, as many formally expressed interest to participate in the initiative. Several countries have progressed into full participation in BIOFIN through the Regional Nodes Platform.
Interested developing countries or countries with economies in transition that are not already implementing the BIOFIN process can access support from the Regional Nodes initiative. Some services, such as the global webinar series, are available for all countries.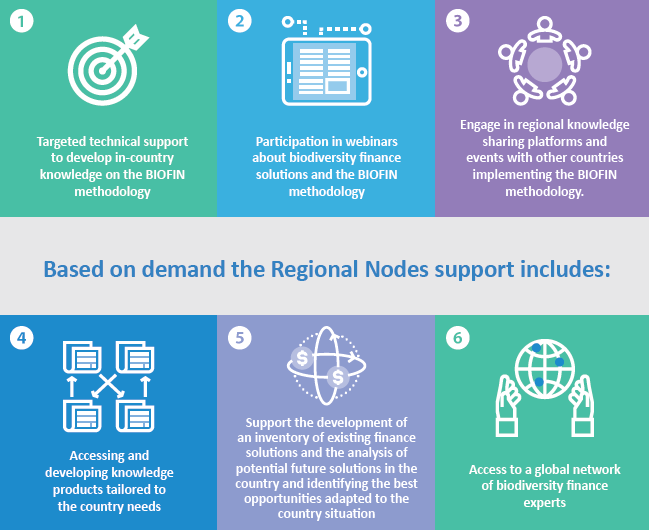 How to participate?
Countries are encouraged to submit their informal expressions of interest through Jessica Alvsilver at jessica.alvsilver@undp.org.
Missions from resource persons are available mainly for the Asia-Pacific Region, and on a very limited basis for other regions.
Join the Biodiversity Finance MOOC (15 April – 30 May 2019)
From 15 April to 30 May 2019 there is an opportunity for anyone interest to learn about the BIOFIN Methodology more in detail by participating in the 1st global Biodiversity Finance Massive Open Online Course (MOOC). Register here.