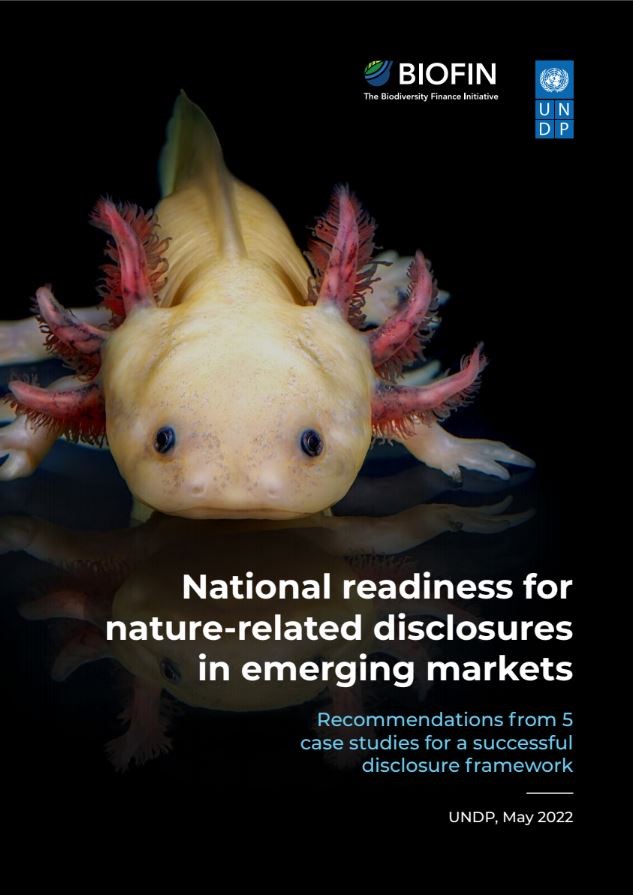 From late 2021 to early 2022, the Biodiversity Finance Initiative (BIOFIN) Mexico team participated, along with four other country teams (Costa Rica, India, Indonesia, and Zambia), in a study with a view to assessing countries' readiness for nature-related disclosures.
Some of the topics explored were:
protocols to nationally assess and account for national natural capital and ecosystem services;
natural capital and ecosystem services metrics that are used (or suggested to be used) at the macro level to monitor the state of natural capital and services, as well as their impacts on the economy;
current status of nature-related risk disclosure on a voluntary basis;
implementation of taxonomies related to nature, as well as the classification of public budget spending as positive, neutral or negative, in terms of nature; and
current status in the regulation and compilation of information on the disclosure of nature-related risks by companies, among other relevant issues.
Among the main findings, the study revealed that each country is using different metrics depending on the availability, good quality and publication of data. The diagnosis also describes that it is difficult to find enough historical and standardized data to allow the analysis of trends, so that most countries will need, in the future, support to build reliable and frequently updated metrics. Additionally, in other countries, the disclosure of risks or impacts related to nature has not been required, only when environmental impact assessments are carried out.
In Mexico, financial authorities have been analyzing frameworks and standards that could eventually become regulations for entities and companies in the financial sector. An important milestone for the country is the recent integration of the National Banking and Securities Commission (CNBV, for its acronym in Spanish), as well as the Bank of Mexico (BANXICO, for its acronym in Spanish), into the Task Force on Nature-related Financial Disclosures (TNFD) Forum, which is a global multidisciplinary advisory group of institutions with more than 650 members.
To access the document, please click the following link: 
https://www.biofin.org/sites/default/files/content/knowledge_products/National%20readiness%20for%20nature-related%20disclosures%20in%20emerging%20market.pdf