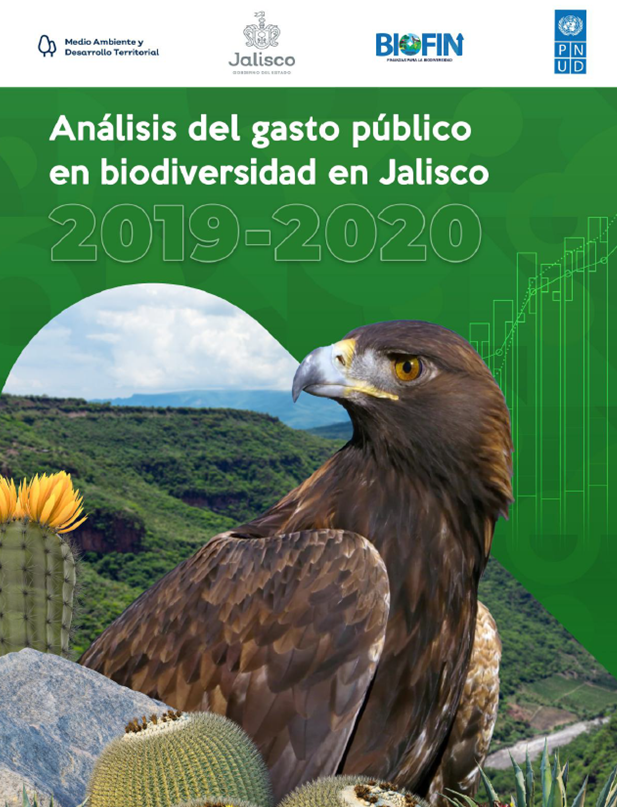 The Biodiversity Finance Initiative (BIOFIN), implemented by the United Nations Development Program in Mexico, and the Ministry of Environment and Territorial Development of Jalisco (SEMADET), developed the state's Biodiversity Expenditure Review (BER) 2019-2022. The study presents the amount and analysis of the state public administration's expenses to conserve and sustainably use biodiversity.
Additionally, this document is aligned with the state's environmental policy instruments "Jalisco with Forests", the Jalisco State Strategy on Biodiversity and the Jalisco State Strategy for the Integration of Biodiversity in productive sectors.
The BER represents a fundamental source of information for the State Government to know the public account resources allocated and executed for actions directed in favour of biodiversity, by all government agencies regardless of whether they are of an environmental nature.
This information also makes it possible to identify financing gaps and their relationship with conservation gaps. Thus, the achievement of the state goals related to the environment is strengthened and allows adjustments to be made in the public administration to achieve better results in the territory.
As part of the main results of this study, the following stand out:
Expenditure on biodiversity per year in 2019 and 2020.

A slight increase is identified between one year and another: in 2019, the expense was MXN $655,889,395, while in 2022, it was MXN $739,366,831 (USD 32.7 and USD36.9 million, respectively).

Expenditure on biodiversity as a percentage of the state's Gross Domestic Product had a ratio of 0.05 and 0.07 per cent in 2019 and 2020, respectively, showing a slight increase from year to year.
The preparation of this analysis had the participation of different state institutions such as the Ministry of Public Finance, the Ministry of Environment and Territorial Development of Jalisco and the State Fund for Environmental Protection of Jalisco. Likewise, the National Institute of Statistics and Geography (INEGI) participated in its preparation as an advisor in consolidating environmental accounts.
Finally, this analysis will serve to understand the distribution of spending and to be able to identify financing instruments of a fiscal, regulatory, market and international cooperation nature that contribute to closing the state financing gap for biodiversity. The document can be consulted fully on Mexico's BIOFIN webpage (in Spanish).