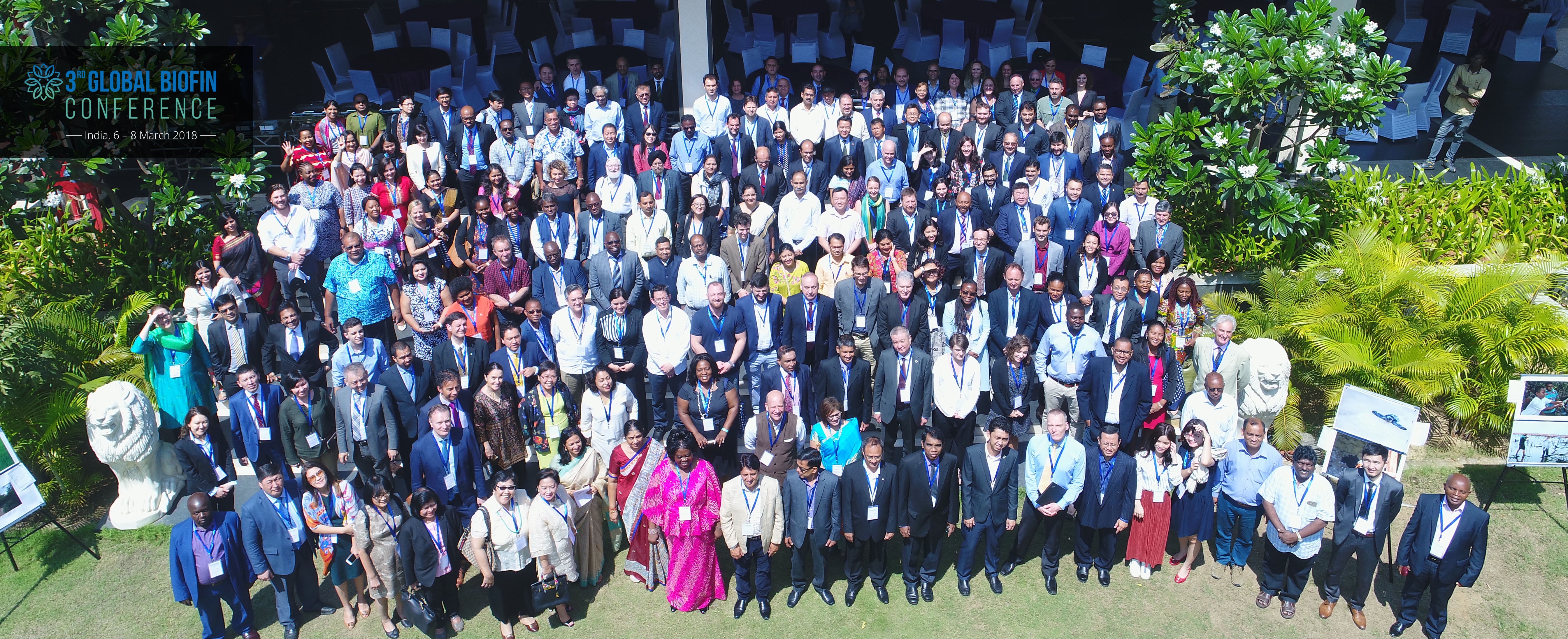 Highlights from the 3rd global BIOFIN conference (6-8 March 2018)
 
By Onno van den Heuvel, James Maiden & Tim Scott
 
Investing in nature-based solutions can produce multiple social, environmental, and economic benefits and accelerate progress on the Aichi conservation targets and Sustainable Development Goals. While we hear this mantra in our development and environmental circles frequently, awakening governments and the private sector to the importance of finance for nature is an ongoing challenge and an exciting opportunity.
 
In early March, around 250 government, civil society and private sector experts came together for the third global conference on biodiversity finance organised by the Biodiversity Finance Initiative (BIOFIN) in Chennai, India.
 
Ministers and senior delegates from over 35 countries shared and debated strategies for investing in nature-based solutions and highlighted challenges and opportunities for advancing many of the biodiversity finance options available to countries – detailed in the recently launched BIOFIN Finance Solutions Catalogue.
 
These included country experiences applying a range of finance solutions, from traditional mechanisms such as taxes, subsidies, payment for ecosystem services, and conservation trust funds, to more innovative instruments such as green bonds and green lending, biodiversity offsets, impact investment, and crowd funding.
 
The Minister of Environment in Ecuador, Tarsicio Granizo said he had learnt a lot about finance solutions from the conference. "The value of these kinds of meetings is the south-south exchanges and the north-south exchanges, to understand and know more about what other countries are doing on biodiversity finance" he said. "I am full of new ideas that may be applied in our country."
 
Country leaders also recognised the importance of combining domestic and international finance in ways that make more efficient and effective use of existing public resources, while catalysing the additional private investment needed to maintain, protect and restore biodiversity and ecosystem services underpinning the well-being of local communities, and broader social progress and economic growth.
 
Key to the debate was how biodiversity finance can help ensure more equitable and inclusive development by integrating the knowledge and needs of women, indigenous peoples and other groups whose lives and livelihoods directly depend on natural resources and the policies that govern how they are managed.  
 
"We are facing challenges with our conservation efforts such as over-harvesting of forests, wildlife and fish, and we have capacity challenges in enforcing the laws, coupled with inadequate modern equipment," said Jean Kapata, Minister of Lands and Natural Resources in Zambia.
 
"But despite the challenges, it not all doom and gloom. In the wildlife sector we are working with communities through community resource boards to promote conservation which has been instrumental in reducing illegal wildlife hunting while improving household incomes as revenue generated is shared between government and communities," she said.
   
Namita Vikas, Chief Sustainability Officer, Yes Bank in India, said private investments in this critical area need to be accelerated. 
 
"Roping in the private sector and the quantum of investment are so huge that multi-actor action is needed, and mainstream finance players need to be brought in. It is very evident biodiversity finance is an untapped market and ready to be tapped. There is a huge gap but there is a huge opportunity. It's time for private capital to step in and play its part," she said in her keynote address.
 
Midori Paxton, UNDP's Head of Biodiversity and Ecosystems made a salient point in a welcome address saying biodiversity finance is about securing the future of humanity.
 
"It is an insurance for our safety and prosperity.  It is about investing in nature-based solutions for sustainable development that leaves no one behind. BIOFIN is a global movement to bring about the necessary mindset shift to recognise nature's value and power, and invest enough to safeguard nature, which has been our strongest but silent ally. " she said.
 
Day 1 also saw presentations on such topics as results-based budgeting, climate finance, and bio-commerce and bioprospecting. A dynamic discussion on grant financing and ODA highlighted opportunities afforded by the Global Environment Facility, the Government of Norway and other multilateral and bilateral donors to support biodiversity conservation. Country delegations exchanged experiences and priorities for preparing potential projects and related steps needed to access donor funding. 
 
On day 2, a delegate from Ireland explained how they applied the BIOFIN Methodology to carry out a Biodiversity Expenditure Review. The Irish agriculture sector accounts for 70% of biodiversity expenditures. At the same time agricultural policies do not have very explicit biodiversity measures included.  
 
A session on conservation trust funds highlighted how first generation trust funds are now being re-designed and re-structured, to improve their governance and attract a wider range of resources, in particular from climate finance. Some of the largest existing funds include Mexican Fund for the Conservation of Nature (1994) with an endowment of 166 Million US$, and FUNBIO (Brazil, 1996) , that has raised over 500 million US$ in the past 20 years. PACT in Belize (1996) is an example of a trust fund that is moving to a more results-based system to disburse its funds.
 
A session on Biodiversity Finance Plans (the final stage in the BIOFIN Methodology) opened day 3, showing how most of the 30 BIOFIN Countries have now developed these. The emerging Georgia Biodiversity Finance Plan combines a number of finance solutions to reduce the country's finance needs, including expanding the revenue base of protected areas, adjusting fine levels for non-compliance with the EIA system, updating the system of natural resource fees and increasing revenues from the sales of wood products. 
 
One of the more innovate sessions on day 2 investigated how blockchain and e-coin technologies can generate income for biodiversity. These technologies are at an early stage, requiring further development and piloting to become proven concepts. The Tiger Coin is one of the early examples linking e-coins with conservation.
 
On day 3, a lively debate chaired by Assistant Secretary Ms. Mercy Sombilla (Assistant Secretary of the National Economic and Development Authority of the Philippines) explored options for retaining or earmarking funding for biodiversity conservation within the central budgeting process. This poses a challenge for countries to mobilise further resources, which are generally added to the overall central budget rather than re-invested in the protected area system. Most countries limit earmarking which poses numerous risks that include limits on expenditure control (by Ministries of Finance), increasing the risk of rent-seeking and reduced transparency in the budgeting process. In the debate the team arguing in favour of earmarking for biodiversity conservation won by highlighting the high level of revenue generated from protected areas, the importance of nature and ecosystem services for other sectors like tourism and the imminent threat to lose many species forever. 
In the debate, BIOFIN Coordinator, Hannah St Luce Martinez convincingly made the case that biodiversity revenues in Belize presented $25 million BZD in 2016, while only 1.5 million was invested in the protected areas system of Belize. Biodiversity related sectors, such as tourism, Agriculture, Forestry and Fisheries accounted for 55% of the annual GDP of 1.7 Billion BZD in 2016. 

During the closing segment, country delegations and other participants reflected on the importance of such global fora as the BIOFIN Conference and the opportunity to share experiences within and across countries. Speakers recognized that the main challenge to accelerating progress on biodiversity conservation and sustainable development goals is not a lack of financing per se; rather, what is needed more is greater political will, evidence-based policy-making, and the technical capacities required to identify, adapt and implement innovate finance solutions.
 
They also reiterated their commitment to the BIOFIN methodology and their plans to advocate for biodiversity financing and engage in future events, including regional BIOFIN meetings and this year's fourteenth meeting of the Conference of the Parties to the Convention on Biological Diversity in Sharm El-Sheikh, Egypt, from 10 - 22 November.
 
See all the filmed sessions from the conference here.