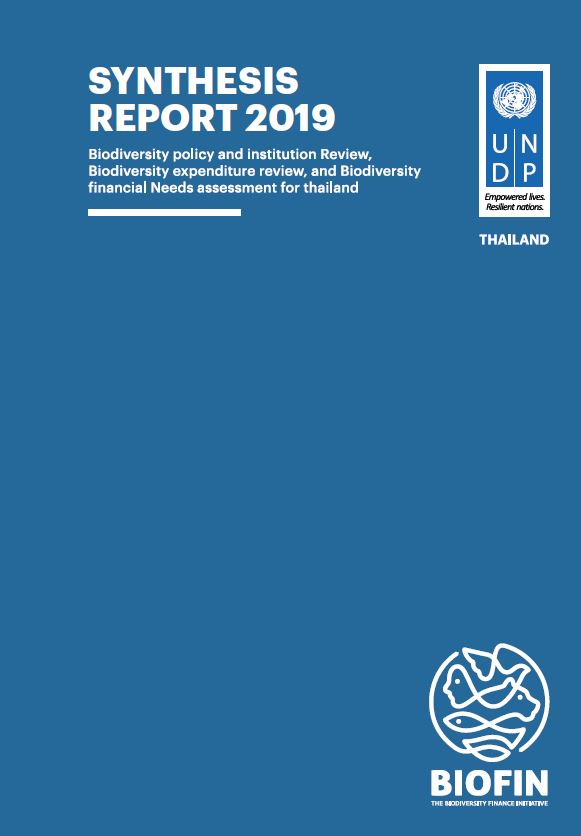 Topic:
Policy and Institutional Review (PIR)
Expenditure Review (BER)
Needs Assessment (FNA)
This Synthesis Report compiles the findings from three assessments conducted as part of the national Biodiversity Finance Initiative (BIOFIN) process in Thailand. The three assessments discussed include the policy and institutional review (PIR), the budget and expenditure review (BER), and the financial needs assessment (FNA). The PIR analyzes the policy and institutional context, identifies the biodiversity targets to be achieved, and lays out the context for the intended change in financing. The BER analyzes public and private expenditures for biodiversity and establishes past and projected expenditures on biodiversity. The FNA provides an estimation of the financing required to achieve identified biodiversity targets. The FNA also assesses the financing gap between the status quo of projected expenses and the estimated budget to meet biodiversity goals. Findings from these three assessments feed into the formulation of the country's Biodiversity Finance Plan (BFP) and are used to develop prioritized finance solutions that are then taken into the implementation phase of the BIOFIN process. 
As the first phase of the national BIOFIN process in Thailand was completed in 2018, several lessons can be drawn. First, the large financing gap required to achieve national biodiversity targets requires increased contributions from all stakeholders including the private sector and citizens. Second, efforts to conserve and enhance biodiversity resources require the participation of all stakeholders, especially local governments and communities. The ideas embodied in the BIOFIN process could be utilized at the local level in order to have informed decision-making regarding budgeting for biodiversity. Third, data on biodiversity should be collected and a holistic database for biodiversity created. Data could be gathered by different agencies, with one central agency responsible for gathering all data into a single database. Finally, increasing the awareness of the importance of biodiversity in the younger generation is crucial to sustaining biodiversity resources into the future. Thus, activities towards this end should be encouraged.