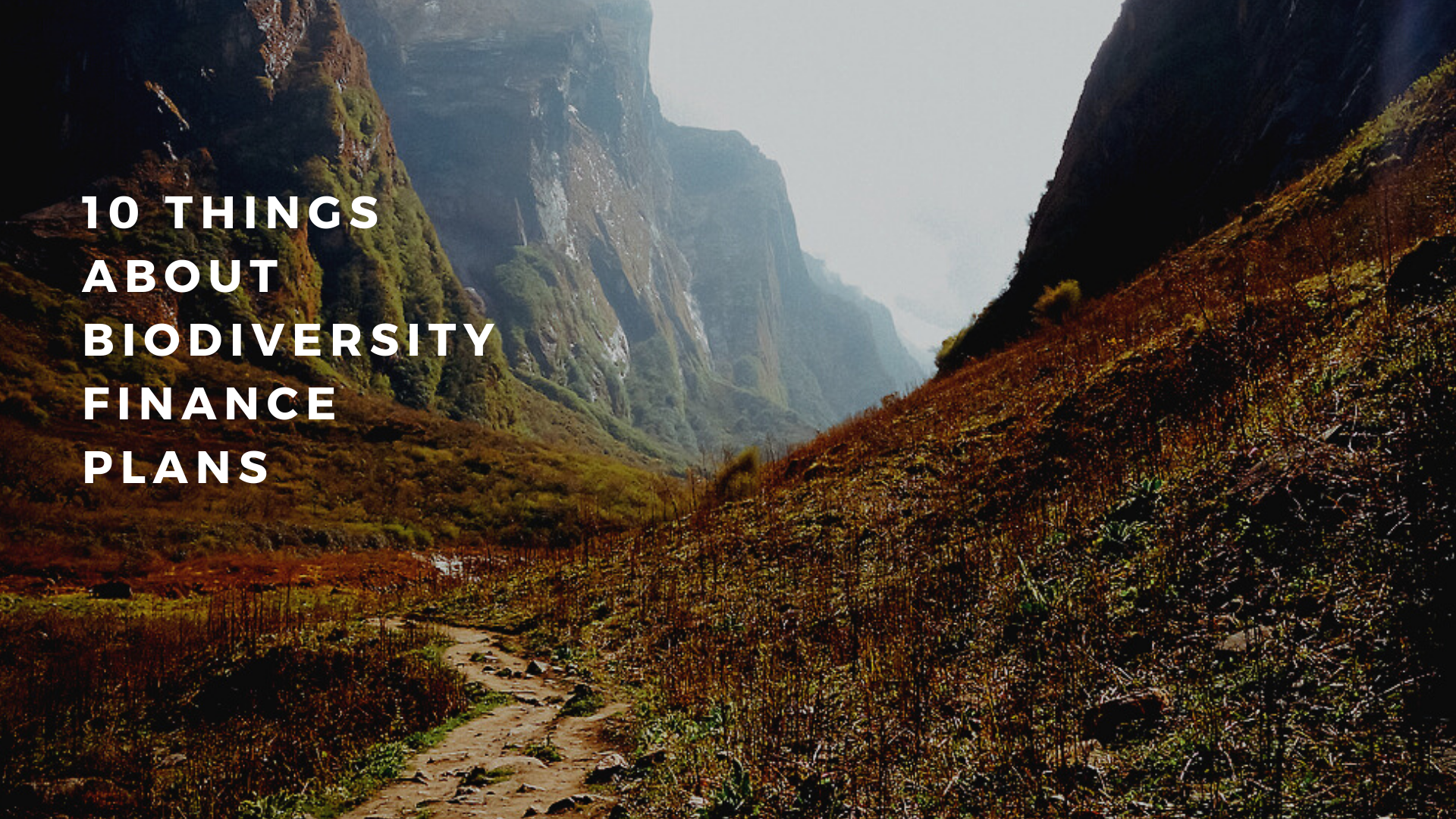 By Onno van den HEUVEL, Global Manager, the Biodiversity Finance Initiative
It's a big year ahead for nature. The world is counting the days before the adoption of a new global biodiversity framework, based on negotiations that will take place this year leading up to the UN Biodiversity Conference.
One powerful way to protect and restore nature is through Biodiversity Finance Plans – the core part of BIOFIN's work with countries across the world.
We work with countries to create innovative finance solutions that will close the biodiversity finance gap. Currently, global investments in biodiversity are falling far too short. While around $722-967 billion is needed to protect and restore nature, annual funding for its protection stands at only around $143 billion per year.
It may sound like a lot, but it's a small price to pay to maintain life on this planet. Biodiversity provides humanity with innumerable benefits. The diversity of wild plants and animals holds the key to continued food diversity, nutrition, vitamins and economic resilience.
BIOFIN's teams work on the ground demonstrating that investing in nature reaps tremendous profits for people and planet, and the Biodiversity Finance Plans are the important first step in uncovering green solutions. 
But what are Biodiversity Finance Plans exactly?
Here are ten things you should know:

The building blocks of a finance plan are the mix of solutions identified in countries that will close the 'biodiversity finance gap'. These can include conservation trust funds, payments for ecosystem services, reduction of harmful subsidies, green bonds, park fees, debt swaps, and a whole host of other options.
BIOFIN works to identify what mix is best through three criteria: 1) how much they positively impact nature; 2) the amount of finance that could be generated to protect nature; and 3) likelihood of success. Additional criteria includes climate benefits, poverty reduction and gender equality.

BIOFIN works in countries to generate a unique set of data to ensure the tailored solutions are based on sound evidence.
This begins with looking at the key drivers of biodiversity gain and loss in the country, based on a root cause analysis. We then create an overview of the existing finance mechanisms already in use in the country, followed by a review of public and private national expenditure on biodiversity.
With this data set, we are then able to calculate how much finance would be needed to achieve all of the country's biodiversity goals.

To date there is one methodology used to develop national biodiversity finance plans, the BIOFIN Methodology, outlined in the 2018 BIOFIN Workbook. But this is not a prescriptive approach. There are multiple pathways at each step of the way to define the scope of methodology.
You can consider it is a do-it-yourself tool to create your own national or sub-national model of the methodology. It is not a rigid methodology to be followed line by line.

Biodiversity finance plans are developed using a bottom-up approach, based on detailed analysis of the national context, engineered with ideas from national stakeholders and experts, through several rounds of consultations.
Most importantly, biodiversity finance plans are developed to address the specific needs and pressures of each particular country, while still aiming to contribute towards the achievement of global biodiversity targets.
The BIOFIN Catalogue of Financing Solutions, with over 150 entries, provides inspiration for what could be useful in a country. This is a global database of existing financing mechanism that can be used to support biodiversity conservation. 

The plans are developed by national teams, combining expertise in public and private finance and biodiversity conservation.
They are closely embedded into existing governing frameworks, in particular Ministries of Finance and Environment, ensuring they have the right skills and knowledge to create practical, actionable plans. They are overseen by national steering committees involving other organisations such as CSOs, UN partners and others.

Right from day one, the process of developing a biodiversity finance plan seeks to create constructive partnerships and develop capacity at all levels.
Collaboration should encompass a 'whole-of-government' approach, including a wide spectrum of stakeholders such as central and development banks, Ministries, civil society and indigenous groups, and private sector, among others.
This collaborative approach to developing biodiversity finance plans supports both the development of sound plans that are able to address key cross-cutting issues, as well as the implementation of the plans further down the line. 

The aim of protecting and restoring our nature cannot be done by one sector alone, which is why finance plans are about more than only conservation areas. They unlock green investment opportunities across a variety of sectors, such as agriculture, tourism, and the private sector, among others.
BIOFIN brings a variety of partners together to have a positive impact on nature, or to remedy any negative impacts.
We propose four 'finance results' any country can strive towards: (1) Mobilise new revenue that can be used for conservation; (2) Realign funding away from harmful activities to conversation; (3) Identify ways to make current funding for nature more impactful; and (4) Prevent higher future costs by investing today.

BIOFIN's presence is scaling quickly, with demand growing year-on-year.
This is continually generating a world-class body of knowledge for other countries to use as part of BIOFIN's community of practice. Since 2014, countries have started to develop national finance plans for biodiversity including Belize, Cuba, Ecuador, Botswana, the Seychelles, Georgia, India, Indonesia and Fiji. Ireland became the first western European country to explore this approach. 

While it takes about two years to design a Biodiversity Finance Plan, its implementation can begin during the design stage as opportunities are discovered.
During the implementation of the plan countries design new financing mechanisms, or work with the ones they already have to have more impact. See some examples from Kazakhstan, Zambia, The Philippines and Mexico.

There is an online course online course that is free of charge, where you can learn about all the steps of developing a Biodiversity Finance Plan. It is available in English, Spanish, French and Russian. If you complete the course you will earn a certificate at the end.
The BIOFIN workbook also provides a detailed step-by-step approach to developing biodiversity finance plans.
For latest news and updates, follow us on Twitter, LinkedIn and Facebook.