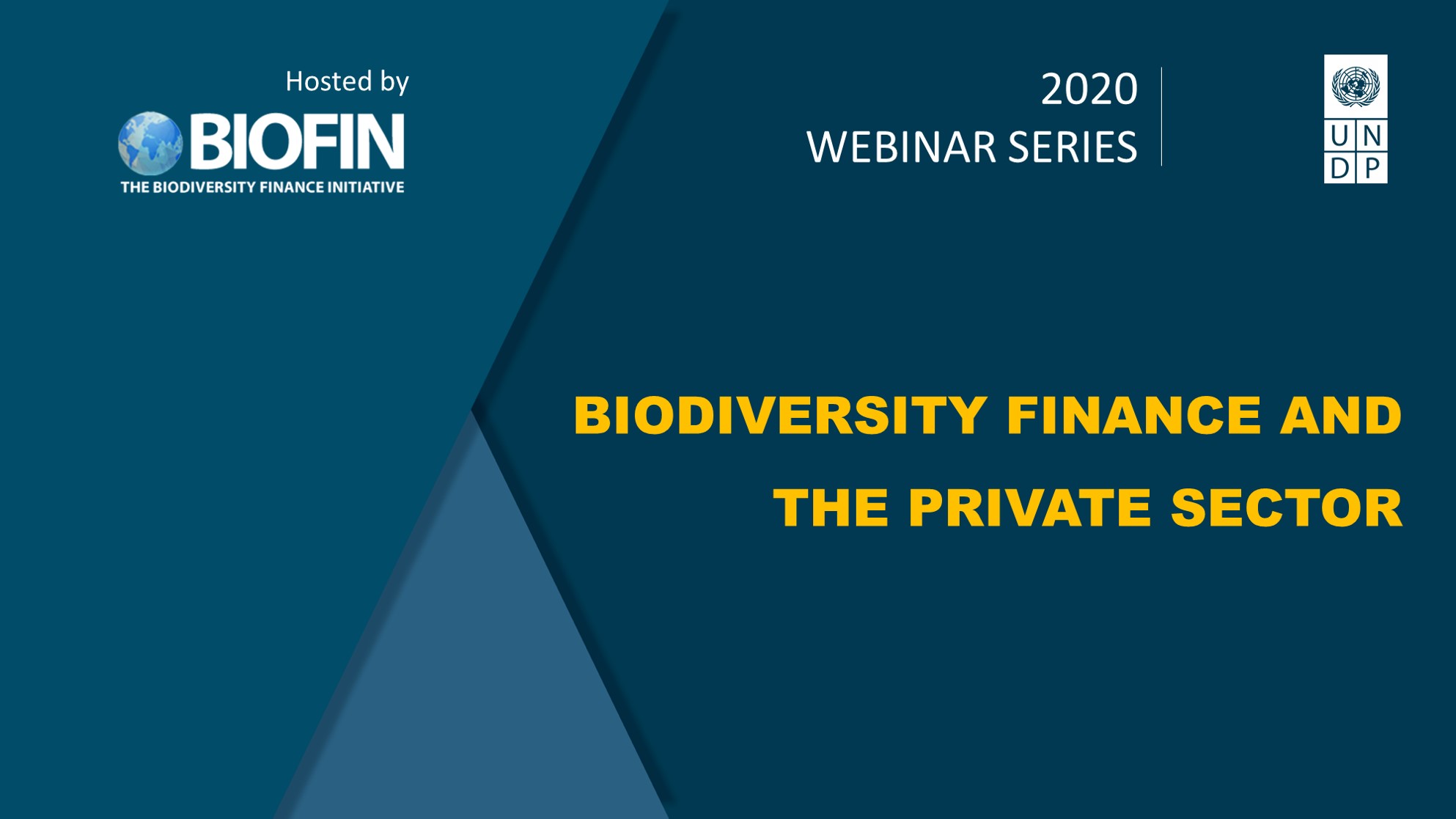 From July 2020 onwards, the Biodiversity Finance Initiative (BIOFIN) will host 6 webinars featuring the Private Sector experts who took part in insightful discussions of what we know, what we don't know, the latest news, and the implications of the pandemic for all of us.
When new webinars in this series are scheduled, this page will be updated. Stay tuned for announcements.
---
>>>>>>>>>>>>>>>>>>>>>>>>>>>>>>>>>>>>>>>>>>>>>  Click Here to Register  <<<<<<<<<<<<<<<<<<<<<<<<<<<<<<<<<<<<<<<<<
---

#1: Finance Sector
The financial sector is one of the most influential business sectors as it is involved in every other business sector in the world. Amongst other roles, the sector provides loans to start-up businesses or to businesses that want to develop; it has the role of shareholders in a wide variety of businesses and develops financial instruments e.g. green bonds for other business sectors to invest in. Through these instruments, the financial sector can influence other sectors and with that provide a positive contribution to biodiversity financing and biodiversity conservation on a large scale. Because of its role as a provider of loans and investments into other business sectors, the financial sector can steer the development of pro-biodiversity business and set strict requirements in relation to the biodiversity performance of a business in order for it to be eligible for funding.
Panelists:
Gwendolyn Yu

, Head of Engagement Transformation, BNP Paribas

Andrew Mitchell

, Founder & Senior Advisor, Global Canopy Programme

Massimiliano Riva

, Investment Advisor, UN Joint SDG Fund

Daniela Torres

, Lead Expert, BIOFIN Mexico
Moderator:
Marco Arlaud, 

BIOFIN Global, Programme Officer
WEBINAr Recordings and Presentations
---
#2: FinTech
With the advancement in technology changing our daily lives, the finance sector has also not been left out – Financial technology (Fintech) has been changing the finance landscape since its inception. It has seen to it the automation of investments, insurance, trading, banking services and risk management. Taking this to note, it is an undeniable fact that Fintech has made financial services easier, more accessible, Faster and even more efficient and we cannot be wrong in betting that fintech is here to stay. With these great opportunities that Fintech presents and with it taking over traditional finance, we are sure that it has a big role to play in biodiversity solutions as it re-shapes biodiversity financing.
Panelists:
Marianne Haahr

, Executive Director, Green Digital Finance Alliance

Robert Pasicko,

Expert on Low Carbon Development and Alternative Finance, UNDP

Mabel Niala,

Head of Public Affairs and CSR, GCash

Amir E.F. Gerges

, Founder and CEO, Conictus
Moderator:
Annabelle Trinidad

, Senior Technical Advisor, BIOFIN
Fintech webinar presentations and recordings
---
#3: Explore opportunities for integrating biodiversity into agricultural economic system

The Agricultural sector is the backbone of many economies especially in regions like Africa. It is indeed an important sector that supports the existence of both human beings and other species. Due to its large impact, its role cannot be ignored when it comes to both biodiversity financing and conservation. Some practices in the agricultural sector such as government subsidies, conversion of forests to agricultural land, heavy irrigation and use of fertilizers and pesticides have had immense negative effects on biodiversity. All these activities involve heavy capital investment that in the end lead to endangering/ loss of biodiversity and also expenditure on expenses that can be avoided. This part of the webinar focuses on how we can green certain investments/ practices in the agricultural sector and how we can re-direct the flow of finances to activities that are more biodiversity friendly.
Panelists:
Eric Soubeiran

, CEO Danone Ecosystem Fund, France

Ayanda Cele

, Manager of Land Reform and Biodiversity Stewardship for WWF-SA, South Africa

Martijn Blom

, Lead Impact Funds Initiative and Benelux, EVPA, Netherlands

Ruchi Pant,

Head, Natural Resource Management and Biodiversity, UNDP India

Kifah Sasa

, Senior Programme Advisor, Green Commodities Programme, UNDP Costa Rica
Moderator:
Tracey Cumming,

Technical Advisor, UNDP BIOFIN Global
WEBINAr Recordings and Presentations
---
#4 How can public-private forest stewardship nurture biodiversity?
Forests sustain 1.6 billion mostly rural poor livelihoods and provide medicines for more than 4 billion people worldwide. The economics of forest health is the essential counterpoint to sustainable intensification of global food supply chains. The public sector is essential to creating an enabling environment to identify, quantify, capture and manage valuable private and public forest ecosystem service benefits. It ensures equitable distribution of opportunity, benefits, responsibility and costs of forest stewardship. Private sector engagement is essential to incentivize forest ecosystem service stewardship through innovative solutions to global climate and biodiversity challenges. In this webinar we explore this range of engagement in forest management for biodiversity through discussion of three exemplary programs: REDD: A international public sector solution to incentivize forest stewardship; PES in Costa Rica: A public private partnership to recognize and capture forest ecosystem services; and Bitfury: A private sector fintech solution to incentivize reforestation in Kazakhstan. 
Panelists: 
Bruno Guay, REDD+ Finance Global Advisor, UNDP Regional Center, Panama
Jorge Mario Rodriguez, Director of the National Forest Financing Fund (FONAFIFO), Costa Rica
Ana Lucia Orozco, National Coordinator, UNDP BIOFIN Costa Rica
Kemel Aitzhanov, Business Development, Bitfury, Kazakhstan
Meruyert Sarsembayeva, Team Leader, UNDP BIOFIN Kazakhstan
Moderator:
Andrew Seidl, Technical Advisor, UNDP BIOFIN Global
WEBINAr Recordings and Presentations