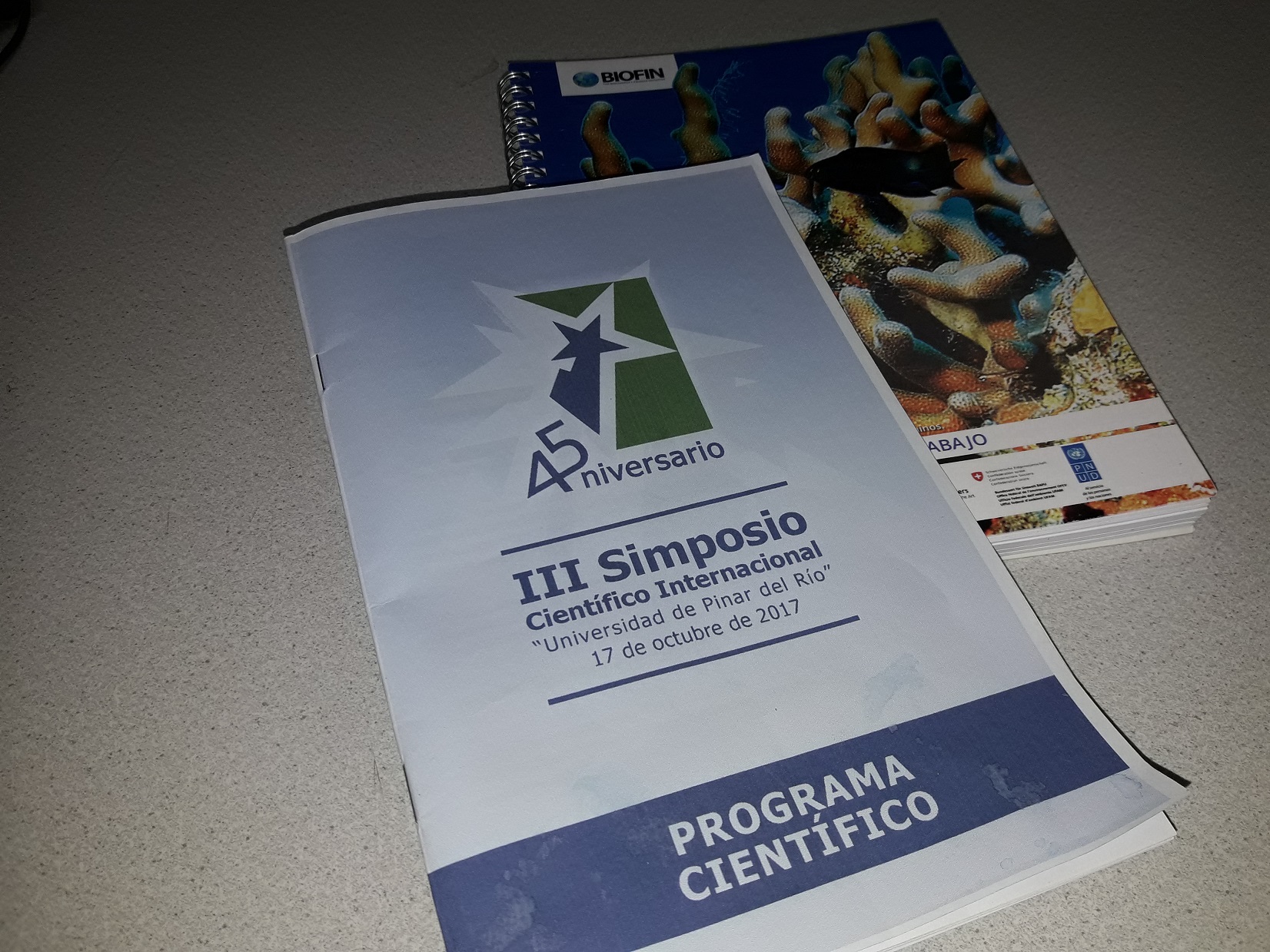 El III Simposio Científico Internacional tuvo lugar del 17 al 19 de octubre en la Universidad de Pinar del Río, el cual fue propicio para presentar "La iniciativa BIOFIN para el financiamiento de la biodiversidad: su avance en Cuba.
En su exposición Pedro Abella Fernández, coordinador técnico del grupo BIOFIN en Cuba, recordó que este país se insertó desde el 2016 en la iniciativa, una alianza colaborativa de alcance mundial, administrada por el PNUD, dirigida a instrumentalizar el reto del financiamiento de la biodiversidad y que tiene el propósito de dar respuesta a las metas de Aichi.
Cuba es la nación número 30 en sumarse a la estrategia, junto a países de América Latina, Asia y África, argumentó.
Según Abella, en el caso cubano la iniciativa pretende determinar la brecha financiera necesaria para cumplimentar el Programa Nacional de la Biodiversidad 2016-2020, documento recientemente aprobado.
Por otra parte Mayra Casas, especialista para la iniciativa BIOFIN, presentó la ponencia : "Las universidades cubanas: su rol en el Programa Nacional para la Diversidad Biológica y en la iniciativa BIOFIN".
Argumentó que el Programa Nacional de Diversidad Biológica (PNDB) 2016-2020 de Cuba, constituye la plataforma principal en la implementación de los objetivos estratégicos para enfrentar la pérdida de la diversidad biológica.
De acuerdo con Casas, este importante Programa está conformado por 5 objetivos y 20 metas, que a su vez se derivan en acciones, con la definición clara de los responsables y participantes de cada una de ellas, así como se precisan indicadores para el monitoreo de su progreso.
El trabajo se centró en abordar como en la concepción y ejecución, tanto el PNDB como BIOFIN se vinculan estrechamente con el Ministerio de Educación Superior, a través de sus universidades y centros de investigación para avanzar en ambas propuestas.
La iniciativa BIOFIN, para el financiamiento de la biodiversidad que desarrolla Cuba desde el 2016, tiene el reto de identificar los gastos asociados a la biodiversidad, el costo de este PNDB 2016-2020 y la determinación de un conjunto de mecanismos financieros que permitan garantizar el cumplimiento de esas acciones y metas fijadas.
La referida iniciativa global está liderada por el Ministerio de Ciencia, Tecnología y Medio Ambiente (CITMA), junto a un grupo coordinador que también integran la Oficina Nacional de Estadísticas e Información (ONEI), el Ministerio de Economía y Planificación (MEP), el Ministerio de Finanzas y Precios (MFP), y el Banco Central de Cuba (BCC), con la asistencia técnica del Programa de Naciones Unidas para el Desarrollo (PNUD).
Asimismo, este proyecto desarrolla una novedosa Metodología conformada por cinco componentes que analizan en el contexto de la biodiversidad:1) la política e institucionalidad, 2) los gastos de la biodiversidad, 3) la evaluación de las necesidades financieras, 4) el Plan financiero y 5) la implementación del plan financiero de la biodiversidad.
Ambos ponentes del Grupo Coordinador resaltaron cómo BIOFIN constituye una nueva oportunidad para significar la altísima importancia de trabajar unidos en la conservación, mejoramiento y utilización racional de la diversidad biológica y acercar a la economía y las finanzas con propuestas de mecanismos e instrumentos objetivos.
Esta nueva propuesta llega para Cuba en el marco de la década promulgada por Naciones Unidas como la "Década de la Biodiversidad".
--------------------------------
BIOFIN-CUBA presents new proposals in the workshop "Universities facing the challenge of sustainability in the framework of the III International Scientific Symposium of the University of Pinar del Río in Cuba
The 3rd International Scientific Symposium took place from October 17 to 19 at the University of Pinar del Río, where representatives presented about the "BIOFIN initiative for the financing of biodiversity: its progress in Cuba."
In his presentation Pedro Abella Fernández, technical coordinator of BIOFIN in Cuba, said that Cuba has been involved in the initiative since 2016, a collaborative alliance of global reach, administered by UNDP, aimed at implementing better finial management for biodiversity with a  purpose of responding to the CBD Aichi goals.
Cuba is one of the newest countries to join BIOFIN, together with countries in Latin America, Asia and Africa, he said.
According to Abella, in the Cuban case, the initiative aims to determine the financial gap needed to complete the National Biodiversity Program 2016-2020, a recently approved document in the country.
Mayra Casas, specialist for the BIOFIN initiative, presented the paper: "The Cuban universities: their role in the National Program for Biological Diversity and in the BIOFIN initiative".
She said that the National Program of Biological Diversity (PNDB) 2016-2020 in Cuba constitutes the main platform in the implementation of the strategic objectives to confront the loss of biological diversity.
According to Casas, this important program is made up of five objectives and 20 goals, which in turn are derived of actions, with the clear definition of the people in charge and participants of each of them, as well as indicators for the monitoring of its progress.
The work focused on addressing how in the conception and execution, both the PNDB and BIOFIN are closely linked with the Ministry of Higher Education, through its universities and research centers to advance both proposals.
The BIOFIN initiative, for the financing of biodiversity in Cuba has the challenge of identifying the expenses associated with biodiversity, the cost of the PNDB 2016-2020 and the determination of a set of financial mechanisms to guarantee the compliance with those actions and goals set.
The initiative is led by the Ministry of Science, Technology and Environment (CITMA), together with a coordinating group that also includes the National Office of Statistics and Information (ONEI), the Ministry of Economy and Planning (MEP), the Ministry of Finance and Prices (MFP), and the Central Bank of Cuba (BCC), with the technical assistance and management from the UNDP.
Likewise, this project develops a novel Methodology made up of five components that analyze in the context of biodiversity: 1) policy and institutions, 2) biodiversity expenditures, 3) evaluation of financial needs, 4) the Financial Plan and 5) the implementation of the financial plan for biodiversity.
Both speakers of the Coordinating Group highlighted how BIOFIN constitutes a new opportunity to signify the very high importance of working together for conservation, improvement and rational use of biological diversity and resources and bringing government ministries closer together with proposals for mechanisms and objective instruments.
This new proposal comes to Cuba within the framework of the decade announced by the United Nations as the "Decade of Biodiversity".