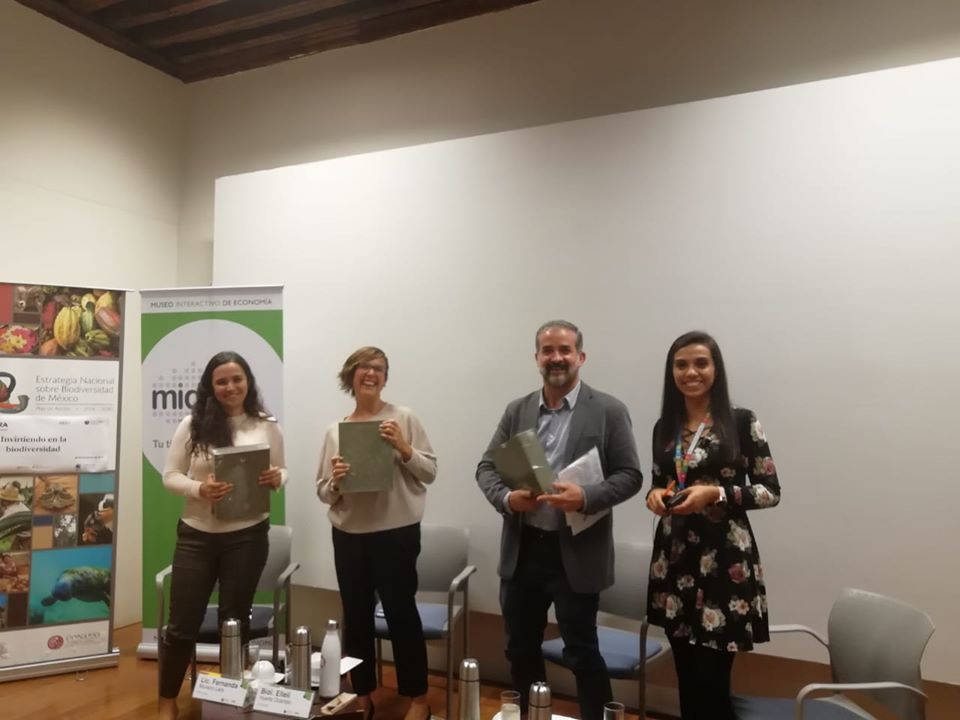 As part of the exhibition "Echoes of the Earth: Economy and Ecosystems", BIOFIN's National Coordinator, Daniela Torres moderated a panel titled "Investing in Biodiversity", with the participation of the Director of Sustainable Finance of the Ministry of Finance, Fernanda Montero; the Advisor to implement principles of Green Bank at the Financiera Nacional (a development bank focused on the primary sectors), Elleli Huerta; and the Director of Reforestamos México (a CSO focused of preserving forests), Ernesto Herrera. 
The panel focused on finance and the entrepreneurship opportunities for sustainably using biodiversity. Panelists agreed that there is national and international funding available, however there is a lack quality projects to channel resources towards them. It is imperative that we generate information on the criteria that defines a project with impact on biodiversity and create financial mechanisms that address their singularities. 
It is possible to conserve while producing, and the most effective way to mobilize private resources towards biodiversity is by developing solid projects that are attractive to investors. This is the role CSO, development banks and international funding must play in the context of sustainable development. BIOFIN Mexico, with its Bio-economy strategy is attending this problem by building capacities of producers and financial intermediaries and launching, in 2020, a financial mechanism that will accelerate productive projects with an impact on biodiversity.
Finally, the panelists gave the audience some recommendations on what they could do to have a positive impact in biodiversity: 
1)    Buy consciously 

2)    Demand information, find out from where is the produce you buy, and how it is produced, and preferably buy those products that are pesticide-free, locally produced and come from zero-deforestation value chains

3)    Observe and change your consuming patterns 

4)    Visit protected areas in your country 

5)    Get to know your national cultural and natural heritage

BIOFIN Mexico, along with the National Commission on Knowledge and Use of Biodiversity (CONABIO) and the German Development Agency (GIZ), developed the temporary exhibition of "Echoes of the Earth: Economy and Ecosystems" at the Economy Interactive Museum. The objective is to recognize the value and role of biodiversity and its environmental services in economic and social development. It also recognizes the importance of human well-being on biodiversity and the environment. This panel was organized as a side event of said exhibition.