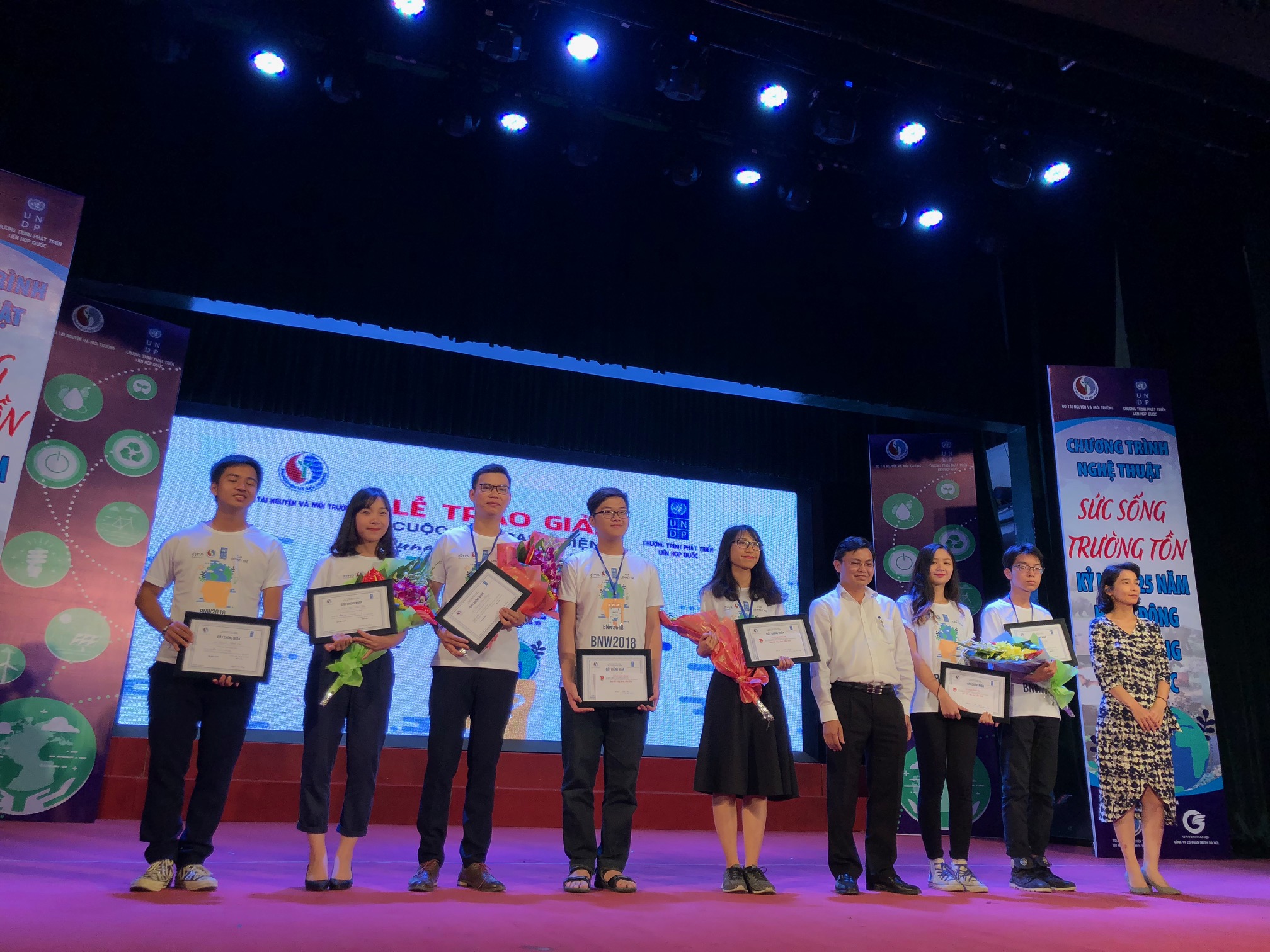 Ha Noi, 22 May 2018 - The International Day of Biodiversity 2018 themed "Celebrating 25 Years of Action for Biodiversity" marks the 25th anniversary of the entry into force of the Convention on Biological Diversity and celebrates worldwide achievements over the years. On this occasion, the Ministry of Natural Resources and Environment (MONRE) together with the UN Development Programme (UNDP) organized many activities and events.
A student debate contest on "Rational use of biodiversity resources" is organized to call for the collective action of the social community for rational and effective utilization while preserving biodiversity resources. And an art performance programme will be held in the evening.
The art performance program included art performances, and a panel discussion with representatives of the Vietnam Environment Administration, the Vietnam Association for Conservation of Nature and Environment, the UNDP and Biodiversity Hero Dang Huy Huynh. The purpose of the panel discussion was to discuss the actions that management agencies and communities can take to make biodiversity conservation part of the country's sustainable development.
Over the past years, the Government of Viet Nam, with the support of the UNDP and other international organizations, actively participated in many international treaties and enhanced its regional and global cooperation to address the issues of conservation and sustainable utilization of biodiversity. International commitments have been rapidly converted into national policies and legislations on biodiversity conservation.
Viet Nam has one of the world's highest biodiversity concentration with its widely different type of forests, swamps, rivers, streams and coral reefs. These habitats have created niches for that has allowed a very biologically diverse wildlife to develop. Viet Nam holds approximately10% of the world's wildlife and has several precious and rare plants that are an important source of medicinal herbs. Because of its uniqueness, biodiversity conservation has therefore always received special attention from the Government, international organizations and the public.
"Biodiversity in Viet Nam brings direct benefits to people and contributes greatly to the economy, providing livelihoods for people and protecting the environment. However, Vietnam's biodiversity resources are continuing a downturn; ecosystems are narrowed, fragmented and degraded; the number of endangered species is on the rise. Therefore, to raise awareness about biodiversity, to manage and use biodiversity resources effectively are essential" Ms. Akiko Fujii, UNDP Viet Nam Deputy Country Director, said.
At the programme, MONRE and UNDP have presented and reviewed the Debating contest's results for pupils and students on "Rational utilization of biodiversity resources". The contest is an opportunity to encourage young people to gain more motivation for studying, researching, creating and developing new ideas and models for biodiversity conservation and enable sustainable development. The first prize went to Tran Tuan Anh (Academy of Journalism and Communication) and Ngo Thi Ngan Hoa (National Economics University). The second prize went to Trinh Nhu Phuong (Foreign Trade University) and Tran Le Anh (Chu Van An High School). The third prizes went to Nguyen Minh Loc (Diplomatic Academy), Dao Hai Nhat Tan (Bac Ninh High School), Nguyen Duy (Hanoi Medical University) and Duong Van Hung (Hanoi Procuratorate University).
For more information, please contact:
Phan Hương Giang, UNDP CCE Media and Communication Analyst: ĐT: 0948466688. Email: phan.huong.giang@undp.org
Nguyễn Nhiên, Natural Resources and Environment's Media Centre: ĐT: 0936066556. Email: nhien.hanoinco@gmail.com