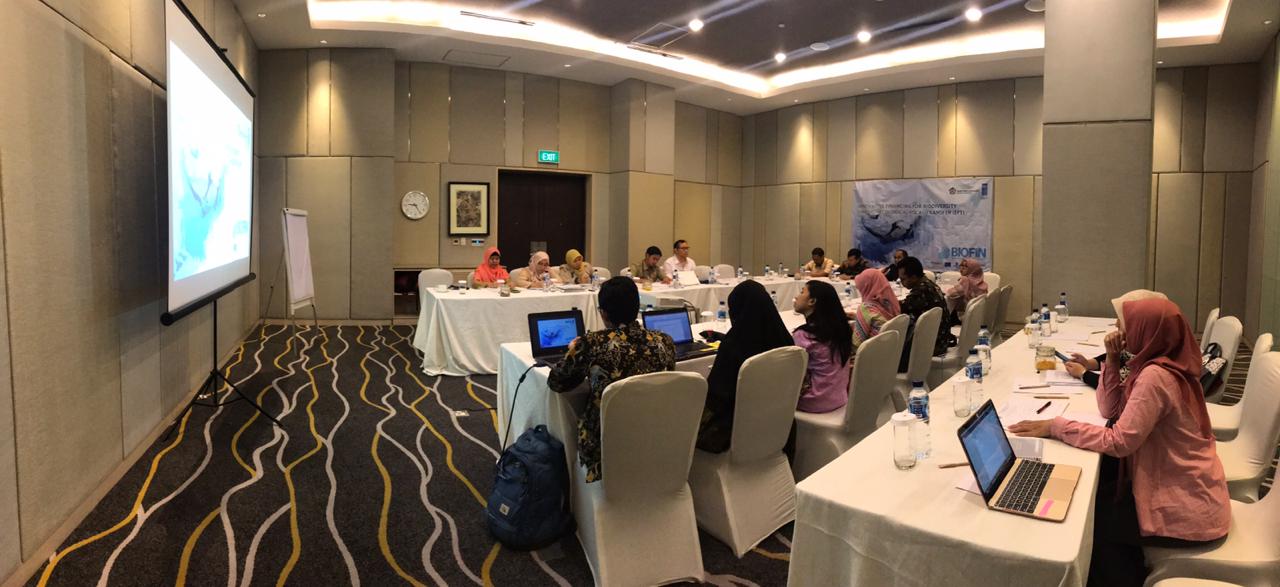 By BIOFIN Indonesia 
BIOFIN Indonesia held a workshop on financing biodiversity through Ecological Fiscal Transfers (EFT) on December 11th, 2018. The workshop was attended by relevant ministries, such as the National Planning Agency, Ministry of Finance, Ministry of Environment and Forestry, as well as local government stakeholders from regional planning and development agencies. They learned about including biodiversity in the development of local policies in order to receive a financial incentive from the Regional Incentive Fund (DID).
Ecological Fiscal Transfers is a modification of intergovernmental fiscal transfers— redistributing the national budget across levels of government according to agreed upon ecological principles and priorities.

The workshop was opened by Mr Parjiono, Head of the Center of Climate Change and Multilateral Policy in the Ministry of Finance.
"Indonesia has shown commitment to biodiversity, which in turn requires commitment on financing. Current total fiscal transfers carried out in Indonesia are around Rp. 760 trillion (USD 52 million)," said Mr Parjiono.
"There is a window to implement new indicators related to biodiversity through the fiscal transfer mechanism, especially through the Regional Incentive Fund (DID)," he said.
The DID is public spending that rewards local governments rather than assigns money for sustainable efforts towards biodiversity conservation. It provides an attractive incentive for local level to work in a more sustainable way and also benefits from better monitoring and evaluation and less burden on central national budgets.
See and infographic explaining more about Indonesia's Ecological Fiscal Transfers here. 
The proposed Regional Incentive Fund (DID) indicators are based on a study of global biodiversity indicators, such as OECD, EEA, and BIP. The proposed indicators can be divided into four categories, namely input, process, output, and impact indicators. Furthermore, it was identified that the current DID 2019 has already begun to give incentives to local governments that have been managing their waste effectively. The assessment of waste management is divided into two categories of activities: the waste reduction program and recycling program. This incentive will help contribute to biodiversity by reducing the impact of waste on land and coastal areas.