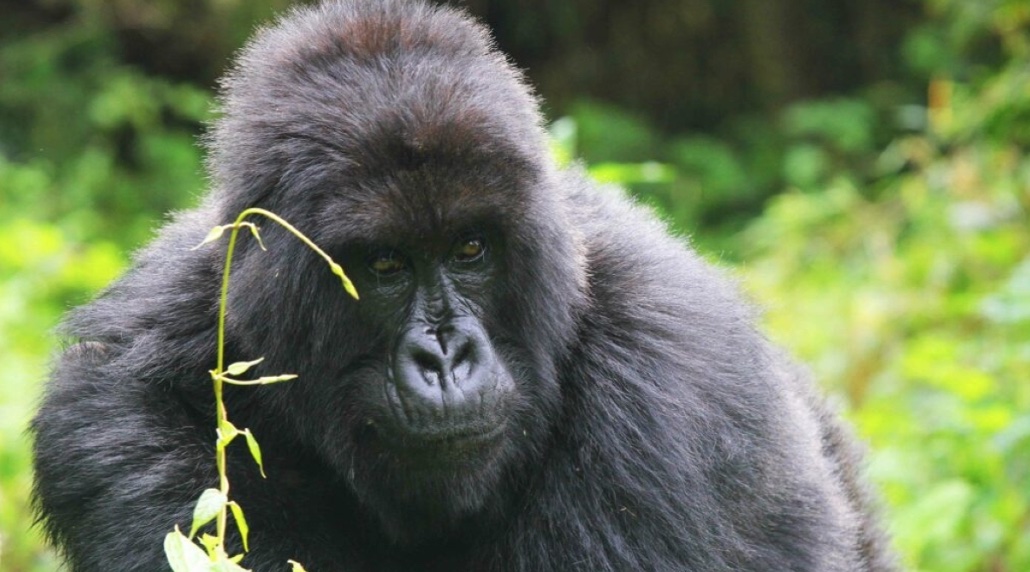 Boniface Manzi (not real name) carries luggage for tourists who come from around the world to commune with Rwanda's mountain gorillas. As a member of the local luggage carrier cooperative, he also shares his knowledge of the gorillas, and guides tourists to their destinations. But when COVID struck, Boniface saw an important source of income vanish overnight. Then; revenue from Rwanda's Tourism Revenue Share Programme plummeted as the visitor numbers fell by 70%. The programme, which typically reinvests 10% of park revenues in local communities, had little to share.
Today, even as tourists return to the Volcanoes National Park, Boniface and his community face a difficult economic recovery—and many think they should receive greater compensation for their role in mountain gorilla conservation, and the sacrifices it can entail. Indeed, their efforts have been instrumental to one of the world's biggest conservation successes. Over that time, Rwanda emerged as a conservation and sustainable tourism leader. Its efforts were key to re-establishing the global mountain gorilla population from 480 individuals in 2019 to 1,063 today, moving them out of the critically endangered category.
But to build back better, residents urgently need to diversify their sources of income while continuing to honor and protect the region's natural heritage. One exciting, untapped possibility is to bring the value of their efforts into the digital marketplace, through the creation of non-fungible-tokens (NFTs) that capture individual images of the gorillas they care for.  NFTs are distinctive digital assets, with proof of individual ownership and authenticity. They can be an image, art or video--anything digital. NFTs have gained popularity in the field of art, music, gaming, sports, and more.
The sale and purchase of unique NFTs on the digital marketplace could generate significant funds for Boniface's village of Kinigi, and others like it. NFTs could be created to celebrate every one of the baby gorillas that have been born in the Virunga Mountains since conservation efforts—and the iconic Kwita Izina ceremony--began 19 years ago.
Kwita Izina event is an annual celebration where newly born mountain gorillas receive names and recognition. This event raises awareness about gorilla conservation, drawing global attention to biodiversity preservation. It is already known for its cultural significance, educational value, and community involvement and the introduction of NFTs could elevate it further.
Imagine this: Each gorilla named during Kwita Izina by Partners, conservationists, celebrities, international and local personalities, dignitaries, and friends of Rwanda, could have a unique digital image transformed into NFTs. The revenue from NFT sales could support conservation efforts, adding a new dimension to Kwita Izina and bringing valuable resources to people like Boniface and others dedicated to gorilla conservation.
NFTs could also offer a unique opportunity for global engagement and support, potentially doubling revenue sharing in Kinigi's community and reducing their direct reliance on tourism. Other countries, including South Africa and the United Kingdom, are also exploring the use of NFTs to generate funds for biodiversity. South Africa is creating NFTs linked to 25 popular animals in the protected wildlife area - the Djuma Game Reserve in South Africa; and United Kingdom is launching a line of NFTs that will go toward the conservation of 13 endangered species.
To move forward with NFTs for gorilla conservation, the Rwandan government could align with the United Nations Development Programme's BIOFIN initiative for sustainable biodiversity finance solutions. BIOFIN works with countries to create sustainable finance solutions to not only protect biodiversity but enable it to flourish. Collaboration between conservation organizations and blockchain developers would likewise be vital to the development of NFT-based funding mechanisms. Promotion of NFT ownership and participation in Kwita Izina could be achieved through awareness campaigns and partnerships with celebrities and influencers. A portion of NFT proceeds should directly benefit local communities in gorilla habitats, reinforcing their commitment to conservation.
The integration of Non-Fungible Tokens (NFTs) into gorilla conservation represents is more than just a financial innovation but also acts as a catalyst for empowerment, sustainability, and the promise of a brighter future for Rwanda's biodiversity. Innovations and collaborations can safeguard the planet's irreplaceable treasures, while ensuring a prosperous future for all.
Irene Iradukunda is the Biodiversity Finance Analyst at UNDP Rwanda and is an expert on climate financing and passionate about nature and vibrancy of ecosystems.