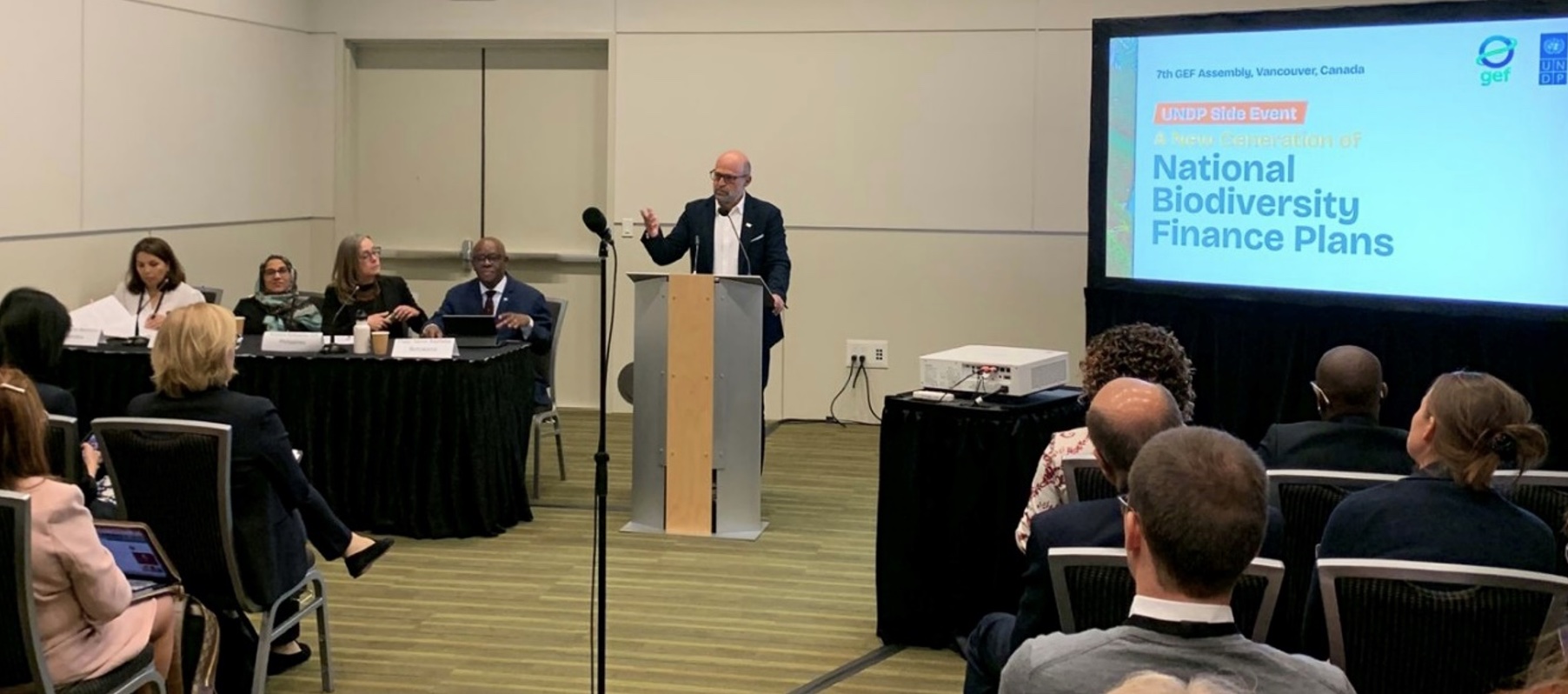 Vancouver – 22 August 2023
The Kunming-Montreal Global Biodiversity Framework, Target 19, recognizes the importance for all countries to develop a national biodiversity finance plan as an important platform to implement the framework in countries. National Biodiversity Finance Plans are being used by a growing number of countries. These plans include a scan of the finance landscape for nature that, combined with an examination of the global catalogue of finance solutions and national consultations on emerging ideas, results in a national biodiversity finance plan. The process guides countries to solutions often not previously identified. It also includes for the first time a baseline measurement of the national biodiversity finance gap.
During a recent side event at the GEF Assembly, Director of UNDP's Nature Hub Midori Paxton Explained how they have evolved in the past ten years, from a new idea in 2012, to a tool being used in more than 130 countries in 2023. She explained how early adopters are now at the implementation stage, showing promising results. Malaysia, one of the early adopters, introduced a system of Ecological Fiscal Transfers, channelling over US$ 87 million in allocations to its states using ecological criteria.
UNDP Resident Representative Matilde Mordt shared how in Ecuador the plan helped set up a system of green credit lines. Government committed over US$ 100 million dollar. GEF CEO Carlos Manuel Rodriguez, highlighted how the GEF is a strong supporter of resource mobilization. The GEF with UNDP is starting a new programme to enable 91 counties to embark on the process of designing their own national biodiversity finance plan. Participating countries will be able to share learning through a global platform.

In a panel discussion, delegates form countries implementing their national biodiversity finance plan shared experiences. In Colombia, a new system of Payments for Ecosystem Services for the city of Bogota resulted in a US$ 2 million dollar allocation for conservation projects, explained Ms. Maria Teresa Becerra, Chief of Office, International Affairs of the Environment Ministry. The Philippines managed to raise the budget of the protected area system with over US$ 50 million through a finance solution, presented Ms. Analiza Rebuelta-Teh, Undersecretary for Finance at the Department of Environment and Natural Resources.
The new programme is scheduled to start by the end of 2023. A self-paced E-learning module enables anyone with an internet connection to learn about the different steps in the design and implementation of a biodiversity finance plan.