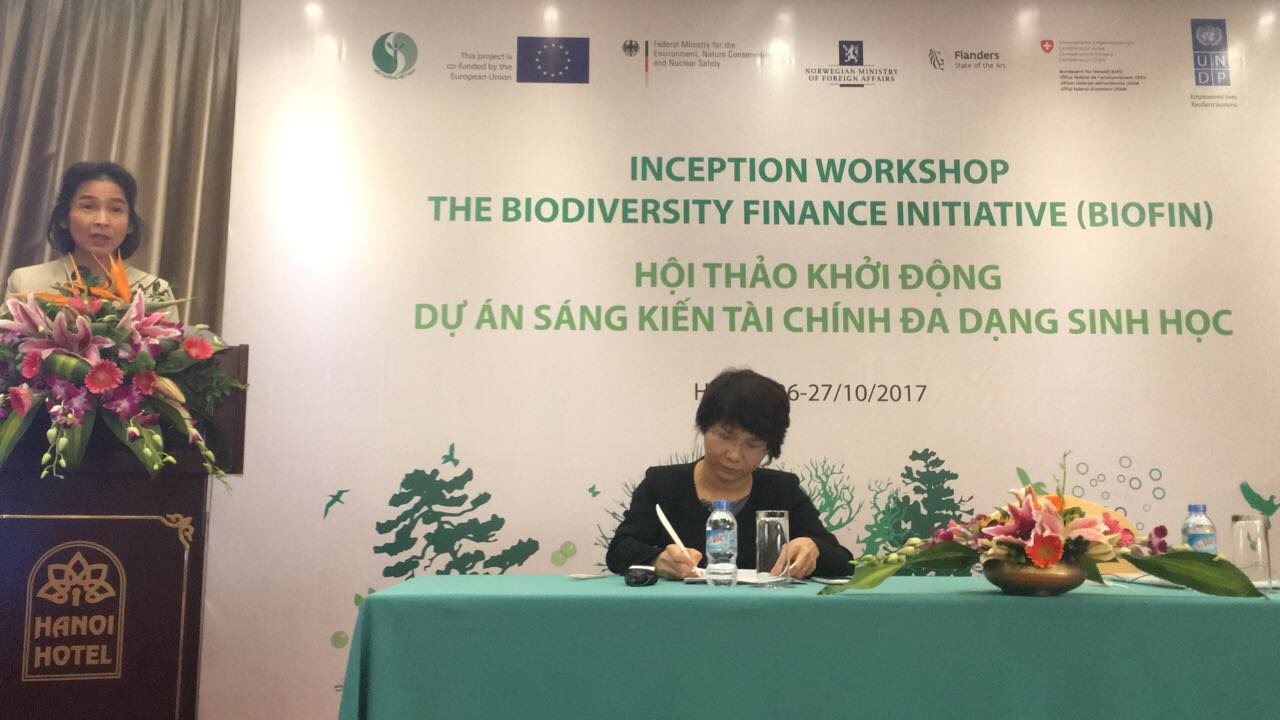 Date: Thursday, 26 October 2017
Event: BIOFIN Inception workshop
Venue: Hanoi Hotel, D8 Giang Vo, Ha Noi
Ms. Hoang Thi Thanh Nhan, Deputy Director – Biodiversity Conservation Agency, Viet Nam Environment Administration, Ministry of Natural Resources and Environment,
Distinguished guests from global BIOFIN team, Thailand and the Philippines,
Distinguished guests from protected areas provinces, and from relevant ministries and agencies in Hanoi,

Ladies and Gentlemen, Good morning.
I'd like to thank the Viet Nam Environment Administration, MONRE leadership, particularly the Biodiversity Conservation Agency for their support and leading the BIOFIN in Viet Nam, and today's meeting.

I thank you all for coming today to discuss a very important topic – financing for biodiversity – a main challenge for biodiversity conservation.

Today is a very good opportunity for us to discuss this topic with a wide range of participants from management agencies, research agencies, protected areas and particularly colleagues from global BIOFIN team, Thailand and the Philippines who can share with us their lessons and recommend best practices.

Biodiversity Finance Initiative (BIOFIN) was launched at COP-11 of the Convention on Biological Diversity in 2012, as a new global partnership seeking to address the biodiversity financing challenges in a comprehensive manner. The first phase of the initiative is a 29 million USD programme and will run through December 2018.

BIOFIN supports countries with a methodology that provides innovative steps to measure current biodiversity expenditures, assess financial needs, identify the most suitable finance solutions and provides guidance on how to implement these solutions to achieve their national biodiversity target. The objective of BIOFIN is particularly important in achieving SDGs.

BIOFIN contributes to realize the Sustainable Development Goals (SDG) 14 and 15 – corresponding to life below water and life on land. However, as we know biodiversity conservation promotes many other goals such as economic growth, equity, gender health.

In Viet Nam, the partnership for BIOFIN has been active. BIOFIN works with MONRE, MOF and MPI to achieve its objectives. Particularly, BIOFIN will work with several protected areas to pilot the biodiversity finance plan for effectively and sustainably conserve biodiversity.

Currently, we are working on Biodiversity Policy and Institutional Review to create a preliminary inventory of existing financing mechanisms used for biodiversity and looks into how existing subsidies affect biodiversity, and an analyses the main drivers of biodiversity loss, and recommend institutional arrangements.

This year, we also aim to finalize the Biodiversity Finance Needs Assessment. This assignment aims to calculate the overall costs for implementing the suite of strategies and actions on biodiversity and to assess the associated financial gap.

Today and tomorrow we will be introduced about different steps of BIOFIN. This brainstorming is very important to orientate the project on finding right solutions for biodiversity conservation. This is crucial when the financing for biodiversity is limited and the changing development finance trend.

I hope you will have fruitful discussions and a successful workshop, a very warmly welcome to you all, all the best and enjoy Hanoi's beautiful autumn weather. Thank you.